Aruba Beaches
Warped Divi Divi trees line the beaches while windsurfer kites fill the sky on this tiny Caribbean island with everything you need for a perfect beach vacation. Flamingos, donkeys, ostriches and butterflies are just the beginning. Shipwrecks tucked in turquoise water, fresh cocktails enjoyed on white sand and deserts hiding natural rock pools all await you in Aruba.
---
Your Guide to Aruba
This Dutch Caribbean island packs a punch for being only 21 miles long. Known for year-round trade winds and temperate, sunny weather, Aruba makes a perfect vacation spot for families, extreme sports lovers, couples, divers and friends. The official currency is the Aruban Florin, but USD is accepted, along with English being widely spoken in addition to the native language, Papamiento.
On the island of smiles, you don't have to choose this or that for your beach vacation. Windsurf on Hadicurari Beach, shop in designer stores in Oranjestad or simply soak up the sun with the whole family at a world-class beach resort on Palm Beach or Eagle Beach. Daytime activities keep your feet in the sand and nighttime offers everything from gourmet dining on the beach to bustling clubs and casinos. And if that's not enough, venture through the desert to a hidden rock pool or visit with flamingos, donkeys and butterflies with the kids. If you're visiting during January or February, prepare for the party of a lifetime—the whole of Aruba lights up for Carnival celebrations with pageants, parades, live calypso music and parties!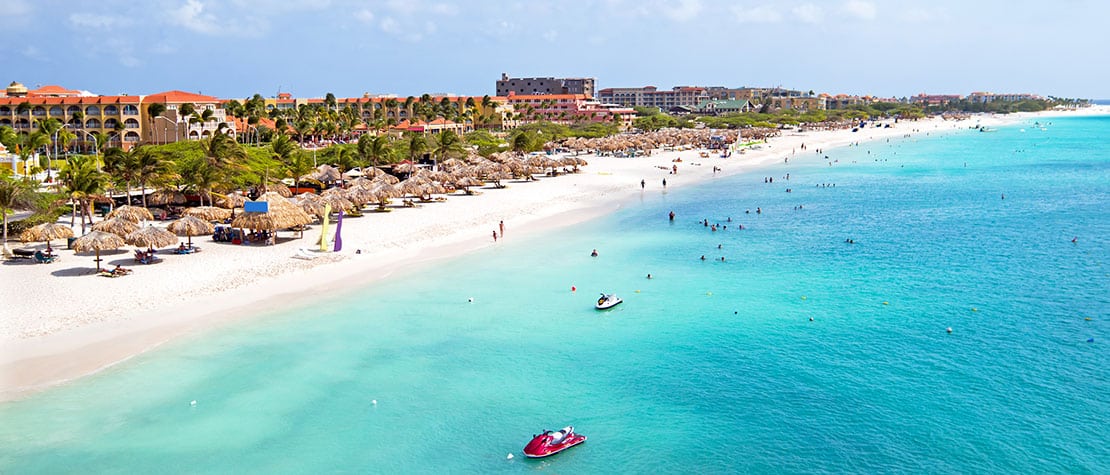 High Rises & Resorts in Noord
You'll likely spend most of your time along the 10 miles of sand on the northwest coast. Palm Beach or the "high-rise area" has amenities galore with major brand beach resorts like Aruba Marriott Resort & Stellaris Casino and Hilton Aruba Caribbean Resort & Casino, watersports lining the beach and a vibe. Eagle Beach on the other hand, is known as the "low-rise area" offering a more laid-back atmosphere with better prices. Low-rise all-inclusive resorts and fancier options like adults-only Bucuti Beach Resort offer beachfront accommodations. Plus, it's just north of Oranjestad.
Head to Hadicurari Beach if you're learning to windsurf is in your vacation plans. Located nearby Aruba Marriott Resort & Stellaris Casino, Hadicurari Beach is the popular spot for watersports. Nearby Arashi Beach has some of the best snorkeling in the area plus beach huts, a bar and white sand perfect for sunbathing or playing with children. If you're traveling as a family, Philip's Animal Garden or the Butterfly Farm is a perfect outing.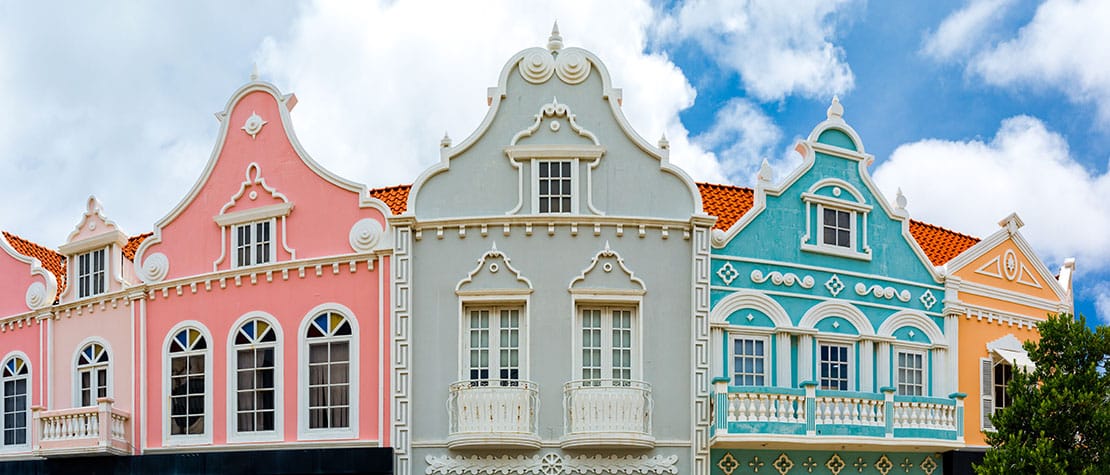 Dutch Charm & Shopping in Oranjestad
While not on the beach, Oranjestad is a must-see stop on your Aruba beach vacation. Colorful shops line the streets with everything from high-end brands like Louis Vuitton and Michael Kors at the Renaissance Mall to a local flea market selling typical Aruba-emblazoned souvenirs. If shopping isn't your thing, book a deep-sea fishing charter. There aren't many resort options here, but you don't want to miss Renaissance Aruba Resort & Casino where you can interact with flamingos on a private island. One thing Oranjestad is not lacking is nightlife—you'll find posh bars with live DJs, open-air cocktail lounges, authentic Dutch pubs and more. If you're visiting on a Tuesday, don't miss the Bon Bini Festival for Aruban music, culture and food.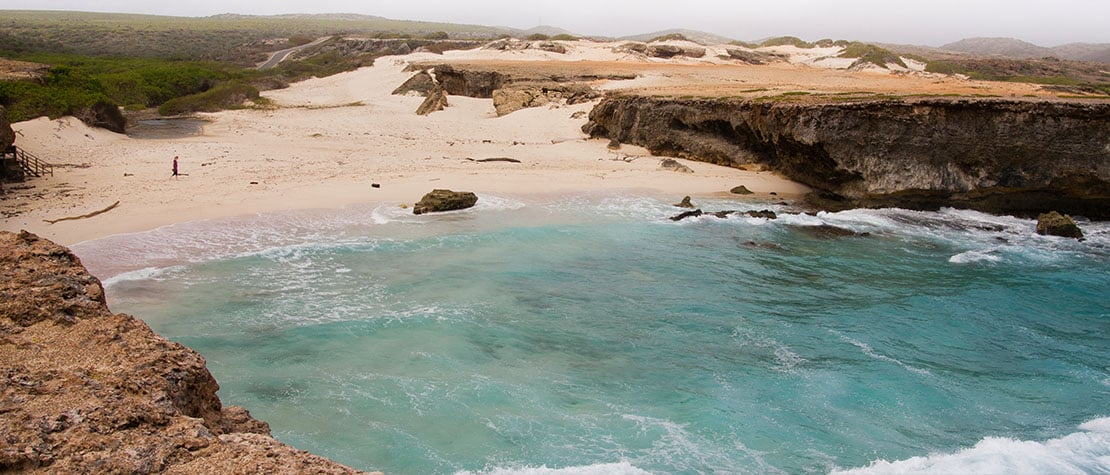 Nature in Santa Cruz
Aside from local neighborhoods, shops and restaurants, Santa Cruz is mainly made up of Arikok National Park. You won't find accommodations here, save for vacation rentals, but there's no shortage of outdoor fun. Climb the 550 step to the top of Hooiberg if you're up for a challenge, or explore the desert on ATVs, horseback or foot. The national park hides numerous natural wonders, like the Conchi natural rock pool, ancient cave drawings by Caquetios in Fontein Cave and the beaches Dos Playa and Boca Prins. Not too far north of the park you'll find Donkey Sanctuary Aruba, Andicuri Beach which is a breathtaking cove with strong surf perfect for body boarding and a natural limestone bridge.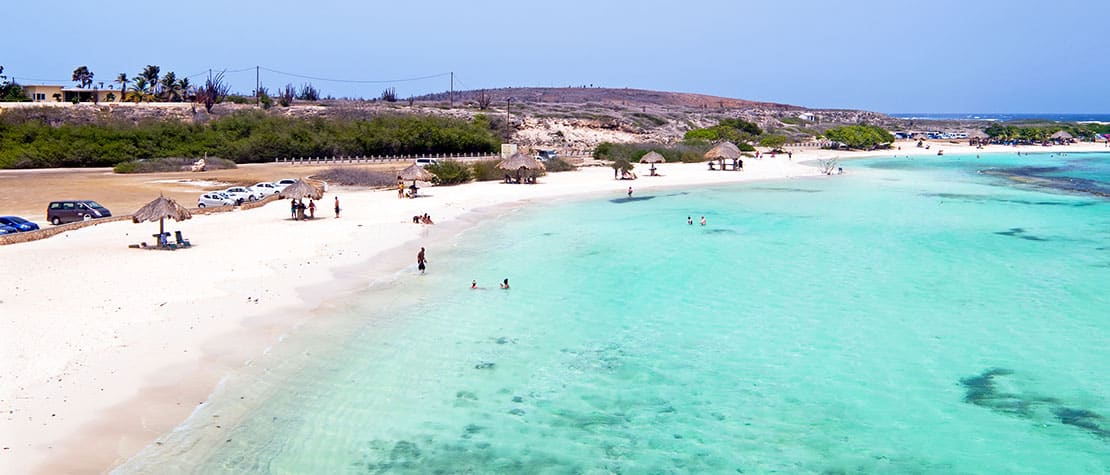 Relaxed San Nicolas
Known as the "Sunrise Side" of the island, San Nicolas offers laid-back coastal vibes—a strong contrast to the high-rise district and Oranjestad just 40 minutes away. Island charm permeates this whole city but especially in the Zeppenfeldstraat area, where you'll find beautiful architecture, restaurants, bars and art galleries. Colorful murals decorate Main Street while local haunt Charlie's Bar has been attracting visitors since the '40s with good times and delicious eats. When you're not soaking up the town, visit Baby Beach—a popular family spot—or Boca Grandi for kite and windsurfing. Be sure to catch the Carubbian Festival every Thursday for a taste of Carnival.