Curaçao Beaches
From the multi-colored Dutch buildings of Willemstad to the idyllic cove making Grote Knip Beach and practically unlimited exotic dive sites, Curaçao proves itself as a unique Caribbean beach destination. Both warm locals and temperatures keep you feeling welcome for the duration of your stay while the blended culture and history pique your interest long after you've returned home. Whether exploring above or below the surface, Curaçao is one beach vacation you won't soon forget.
---

Curaçao Overview
With beautiful beaches and gorgeous vistas, Curaçao is a popular beach vacation destination in the Dutch Caribbean and a haven for divers, watersport enthusiasts and boaters. Whether you want to spend your days relaxing on the white sands, enjoying a cocktail at a beachside bar, exploring the waters on a yacht or just visiting the area's cultural attractions, the island of Curaçao offers a wealth of options for all types of travelers.
Curaçao stands apart from many destinations in the Caribbean because of its intriguing cultural scene, some of the best diving spots in the world and its vibrant architecture. The historic port capital Willemstad is a destination in itself, a place that has captured the Old World charm of the island and maintained many of its historic sites and original architecture. You'll find plenty of opportunities to learn about local culture and traditions by visiting the museums, historic homes and other cultural centers scattered throughout the downtown area. Traditional adobe houses, museums located in buildings that date back to the 1700s and a maritime museum that showcases the history of Curaçao's seafaring days are just a few cultural sites to explore during your visit.
Curaçao is also a sunlover's paradise, a place to just relax on white-sand beaches and enjoy a few hours of swimming, snorkeling and diving. You'll find more than 35 named beaches and over 60 snorkeling and diving destinations around this magnificent island. From the small, intimate beaches to the larger stretches of sand that have captured the hearts of many tourists, you'll find plenty of places to enjoy a leisurely lunch, build sand castles or just bask in the sun.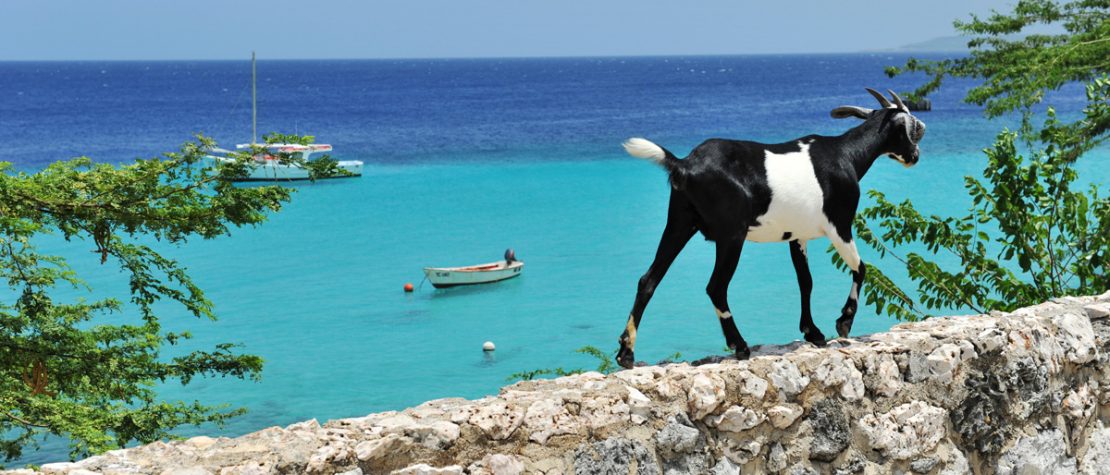 Curaçao Weather & Best Time to Visit
Since Curaçao is a warm, tropical destination year round, it has become a popular vacation destination for northerners looking for an escape during the winter season. December through April are Curaçao's peak season, and you'll find that many people flock to the shores and prefer to enjoy outdoor activities during this time of year. Carnival season runs from January through February, so you can expect more crowds throughout the island and especially in the downtown area during this time. Outside of peak season and the major holidays including Christmas and Presidents Day, the island tends to stay fairly quiet and makes a perfect destination for more tranquil retreats and romantic getaways.
Low season runs from the middle of April to the middle of December, and this is when you'll find the lowest rates on your hotel or vacation rental properties. Annual temperatures average between 80 and 85 degrees, but the island stays relatively cool and comfortable thanks to the easterly trade winds. If you head to this island during the month of February, you can expect heavy but short rainfall during the evenings. Since Curaçao is located outside of the traditional hurricane belt, you don't need to worry about severe storms or having your vacation ruined because of a threat of hurricanes. When planning your Dutch Caribbean vacation over the holiday months, your best bet is to book as early as possible and seek out hotel and flight packages. Traveling during the low season may help you get lower rates on hotel and flight deals, and you can also seek out special packages from third-party travel sites.
Curaçao Airports
Curaçao International Airport, also known as Hato International Airport, is the primary airport serving visitors traveling to the island of Curaçao. It is a modern international airport with frequent flights to and from Europe, the Caribbean and the American continents. The airport is home to a handful of restaurants including a small café and sports bar, and car rentals are available on site. It is serviced by several major airlines including Air Jamaica, Aires, American Airlines, Divi Divi Air, KLM and Martinair.

Curaçao History & Culture
You'll find there's still heavy European influence in Curaçao today. From the cobblestone streets to the sherbert-colored storefronts and buildings, Curaçao is one of the "melting pots" of the Caribbean with influences from Holland and Africa. Many locals admit that Curaçao has maintained much of its cultural identity and the downtown area has earned the recognition of being a UNESCO World Heritage site. Heritage here is a mix of European and African cultures and represents more than 50 nationalities. Many residents speak Dutch, English and Spanish, as well as the local language called Papiamentu. The Punda District in Curaçao was once fortified and walled up to protect its residents, but is now an open area that is easily accessible from the neighboring districts. This district itself is home to just about 765 buildings and national monuments, including the Governor's Palace, the Penha building on the waterfront and the Mikve Israel-Emanual Synagogue.
Even though Curaçao is a tropical destination, it has more of a feel of an Arizona desert than a tropical destination. You'll find gorgeous mountaintops, cliffs, cacti and rocky shore throughout the island. Still, this pristine setting has grown popular as a quiet getaway destination, and is one of the "ABC" islands, alongside Aruba and Bonaire. You'll find more authenticity on this island than some other parts of the Caribbean, and will notice that there are fewer tourist traps and man-made attractions. Most visitors to this island enjoy the natural sites, explore the charming downtown area, and participate in Carnival celebrations.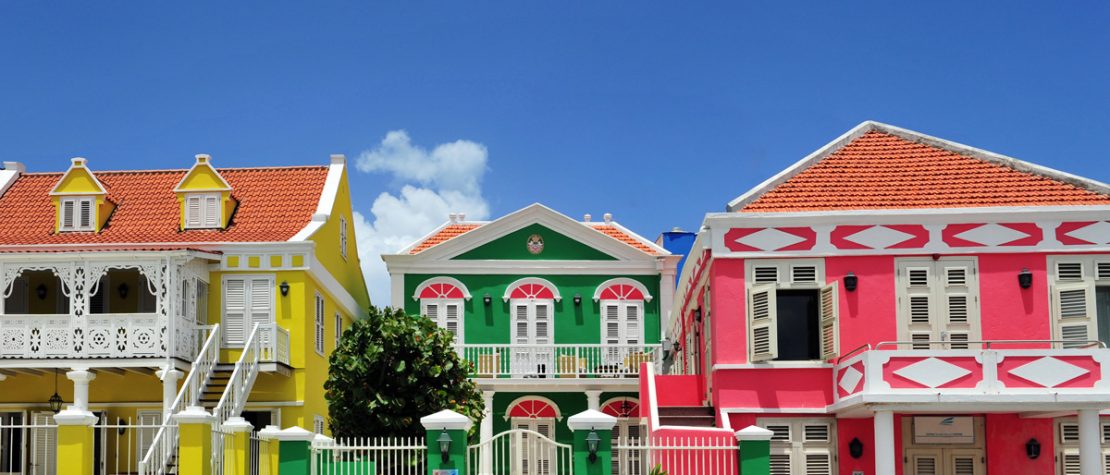 Curaçao boasts a vibrant art scene, and you'll have the chance to see the works of dozens of sculptors, photographers, painters and other talented artists throughout the area. Don't miss the chance to explore the area's captivating architecture. The brightly colored homes and historic buildings are a site unto themselves, and you can spend the day on a walking tour to see Landhuizen, original forts and bridges, and learn why Willemstad has been ranked among the best UNESCO World Heritage sites. In addition to the historic city center, inductees for the UNESCO World Heritage Site selections included the restored mansions of Scharloo and Pietermaai that date back to the 1700s.
From the downtown area to the random tourist spots around the beach, you'll find that many destinations boast strong Dutch influence and have a European vibe. Visitors from Europe make up about 40% of the tourist population, and this island has become a popular vacation destination for Holland natives. Even with the heavy tourist population and short-term residents from around the globe, Curaçao is still one of the friendliest destinations to visit and you'll feel right at home the moment you arrive. From historic sites to the natural attractions, Curaçao offers something for all types of travelers and may soon become one of your favorite Caribbean vacation destinations.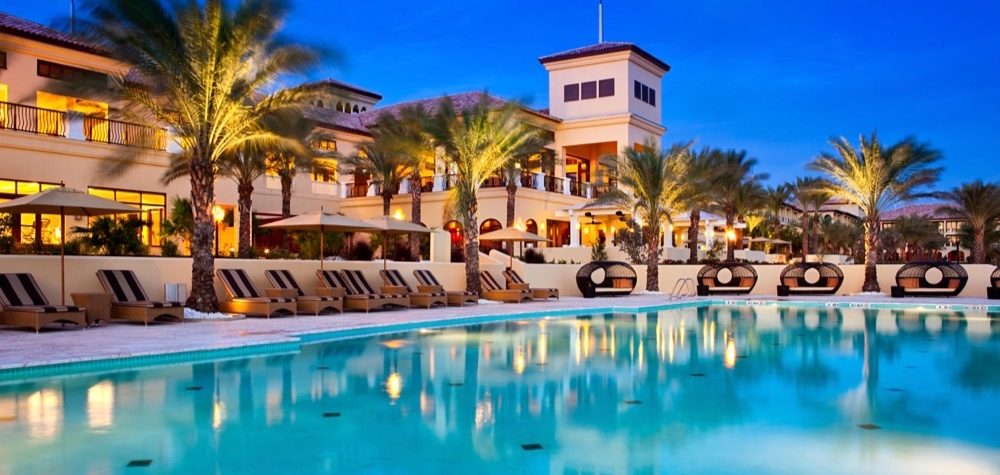 Where to Stay in Curaçao
From luxury beach resorts to quaint inns and villas, you'll find a wealth of accommodation options throughout the island of Curaçao. Whether you want to stay in a villa on the oceanfront, relax in a guesthouse for a few days, stay in a traditional bungalow, or reserve a room in one of the stylish beach hotels, you'll find dozens of options for comfortable accommodations and a memorable stay throughout the island.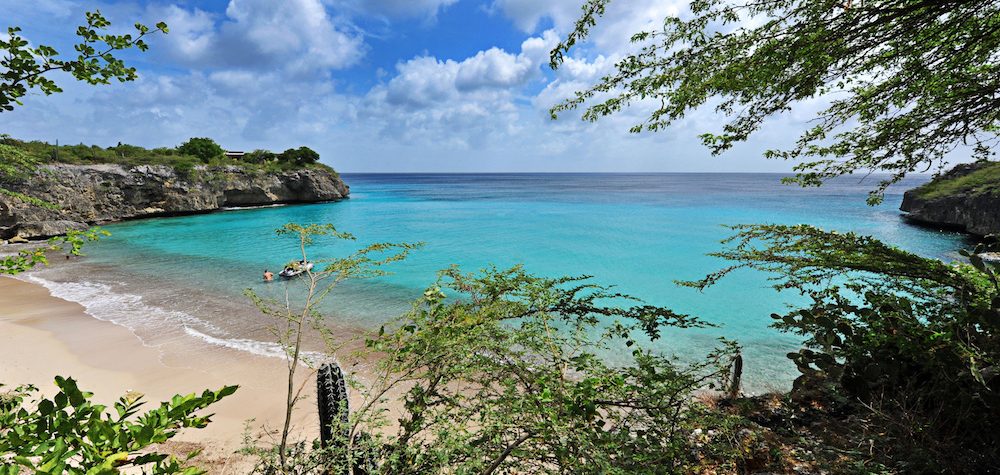 Curaçao Beach Hotels & Resorts
The island has a long tradition of hospitality and many hotels are located on secluded spots near the beach, offering a more private experience. Avila Hotel is the oldest running hotel on the island, with stunning accommodations for couples, families and business travelers. Both Kura Hulanda Lodge and Beach Club and Oasis Coral Estate Beach, Dive & Wellness Resort have boutique guest rooms and suites on the beach along with on-site dive shops.
Curacao Vacation Rentals
If you are looking for an extended-stay property, consider reserving a Curaçao beach vacation rental property or villa. Many of the historic villas, old estate properties and rental condos are perfect for long-term stays and offer many of the amenities and services you would find at a hotel or resort. From small inns and guesthouses to spacious luxury villas and apartment-style suites, you have several options for extended-stay accommodations and Curaçao vacation rentals.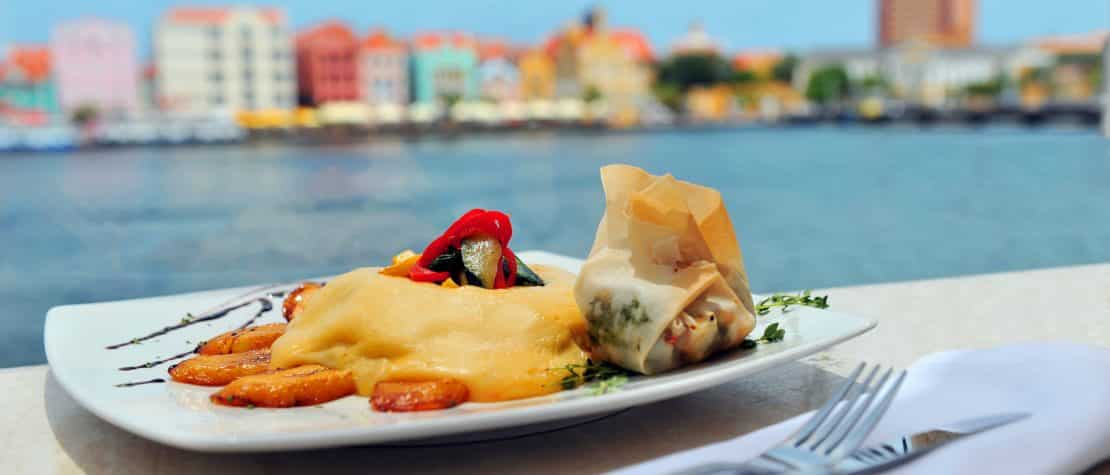 Curaçao Restaurants
Since Curaçao is a melting pot of several cultures, you'll find that many restaurants and dining establishments in the area serve cuisine from all over the world. Many restaurants boast international menus with local ingredients and you'll find everything from beach bars, steakhouses and American grills to Latin American food, fresh seafood and Italian cuisine. "Krioyo" is the term used to describe local food and there is no shortage of locally-owned restaurants serving up traditional fare. From spicy Creole meals to fresh seafood platters, these restaurants serve plenty of great eats at affordable prices. Enjoy post-dive cocktails or beers at Playa Portomari's boat-shaped bar on the beach or head to the main restaurant for Indonesian, Dutch and local cuisine. Or, dine al fresco at Rozendaels along the Penstraat near Avila Beach Hotel if you're in the mood for Krioyo and Caribbean food.

Curaçao Attractions & Activities
Diving and snorkeling are popular Curaçao activities year round and you'll find plenty of great dive spots on the island. Ocean Encounters Curaçao, Scubaçao and The Dive Bus are some of the most popular dive shops in Willemstad or try Relaxed Guided Dives if you're staying near the center of the island and Go West Diving if you want to explore the western tip.
You will need a few days to explore downtown Willemstad, the capital city of Curaçao. This UNESCO World Heritage site city is a showcase of colonial architecture and traditional Dutch styles. The historic fort houses, bustling downtown center and miles of white-sand beaches are just some of the popular Curaçao attractions to enjoy during your visit. The best way to enjoy Willemstad is by taking a stroll down the cobblestone walkways and winding streets. Most of the downtown area is very pedestrian-friendly and you can find everything from great restaurants, markets, local vendor booths and live music within walking distance from each destination. This area is also home to numerous outdoor cafes and small eateries that are perfect for people watching. Willemstad also has a nightlife scene, so don't leave the area after sundown if you want to enjoy another side of city life.
If you're traveling with kids, don't miss the chance to visit the Curaçao Sea Aquarium. This aquarium was developed right on the oceanfront and has a giant coral reef and several exhibits that provide a glimpse of the underwater world. Spend an afternoon exploring the Curaçao Liqueur Distillery to see how the Chobolobo Mansion creates the famous liqueur and learn about this site's rich history.
Curaçao is home to several national parks where you can see sea turtle species breed, spend a few hours bird watching or just relax on the lush grounds enjoying the views. Other fun destinations to explore around this island include the Butterfly Garden, the Substation Curaçao with its certified mini-submarine, Pos di Pia and the Parke Tropikal Zoo. The largest national park in Curaçao, Christoffelpark, is the place to see the variety of native flora and fauna and birdwatch. Or, Dunki National Park is another great destination to relax and enjoy the beautiful scenery of what was once an African slave camp. For more nature, Marco's Fishfarm is the only Tilapia-hatchery on the island and is a great destination for nature lovers and those who want to learn more about plantation life.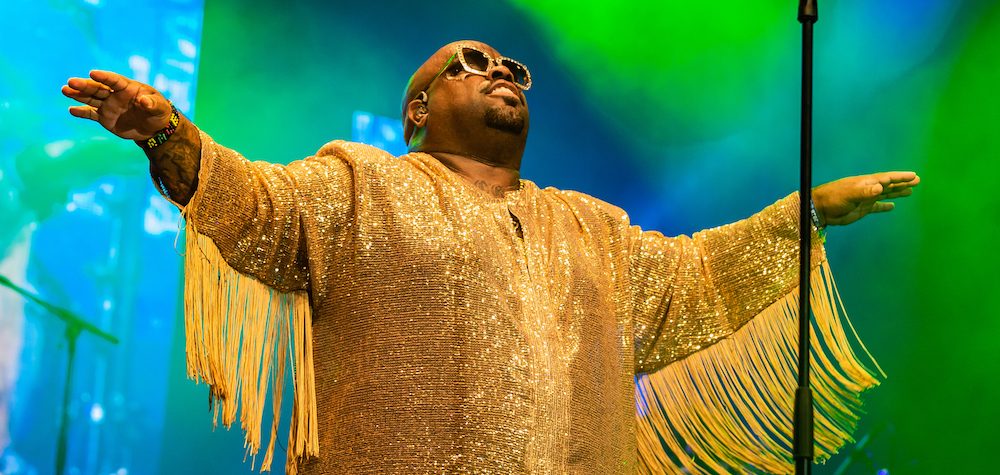 Curaçao Events
You'll find many Curaçao events take place in the city center and a number of local merchants, restaurants and nightlife hotspots host live music and entertainment events throughout the week. If you're traveling to Curaçao during any of the religious holidays, expect larger crowds and local festivals and community events taking place throughout the downtown area.
Carnival runs from January through February each year and is one of the largest celebrations on the island. This ancient Catholic celebration represents the Christian practice of giving up meat for Lent, and Curaçao adopted the tradition in the 19th century by organizing parties and marches in private clubs. It is now one of the longest-lasting Carnival celebrations in the Caribbean and includes weeks of dancing, live music, entertainment and fundraising activities. Aside from Carnival, some of Curaçao's other events not to miss include Curaçao Regatta, International Blue Marlin Release Tournament, Curaçao North Sea Jazz Festival and Curaçao Dive Festival.