Dominican Republic Beaches
Waterfalls and rain forests contrast cobblestone roads, colonial buildings and contemporary beachfront hotels in the Dominican Republic. Christopher Columbus' first settlement of the New World keeps the wonder of exploration alive with thrilling adventures and natural wonders, from cenotes to mating humpback whales and cloud forests. Step to the rhythm as merengue guides you through historic streets into vivacious city centers filled with restaurants, beach resorts and more than 250 miles of stunning beaches.
---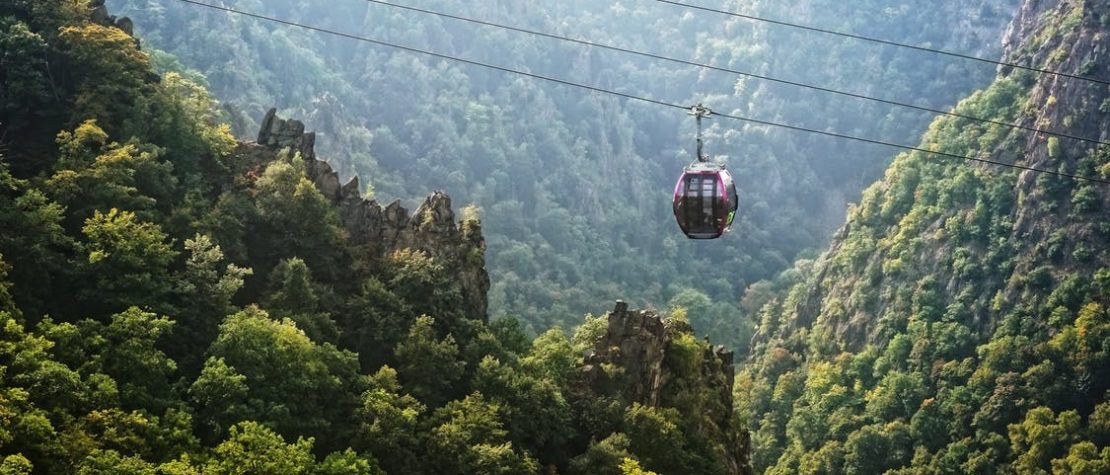 As the second largest country in the Caribbean, the Dominican Republic serves a multitude of travelers with options for families, thrill seekers, divers, beach lovers, and so on. It's the diverse topography that makes this island so unusual. Climb a waterfall, snorkel a coral reef, dive into a cool and crystal-clear cenote, zipline through a rainforest, hike a mountain valley 1,640 feet above sea level, watch sea turtles nesting in offshore cayes, decipher ancient Taino cave paintings, listen to humpback whales mating in the bay, and then sip a piña colada from a beach lounger at your all-inclusive resort–it's all possible here.
Whether you choose a sleepy fishing town on Samaná Bay, or head into the sprawling resort town of Cap Cana in Punta Cana, you'll easily understand why the people of the Dominican Republic lovingly call their home Quisqueya, meaning "mother of all lands." Core values here are family, hospitality and courtesy; the people are inherently happy, and joy is contagious.
Step out into a world of curiosity.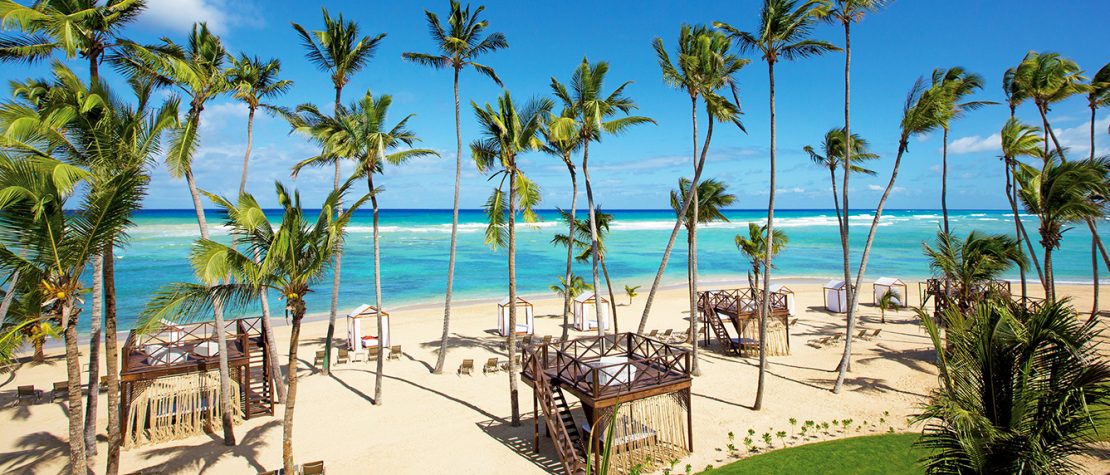 Punta Cana & Cap Cana
Located on the easternmost tip of the Dominican Republic, Punta Cana lies where the Caribbean Sea and Atlantic Ocean meet, making it one of the region's longest coastlines stretching 30 miles. Here, you'll find stunning all-inclusive beachfront resorts, a concentration of activities, stretches of award-winning golf courses and non-stop action. At the southern end, Cap Cana is a ritzy and elite area catering to the rich and famous with private villas and upscale boutique properties. Mile upon mile of white-sand beaches draw travelers to this destination. Choose Macao Beach for surfing or secluded Juanillo Beach for quiet time — but the most popular is Bávaro Beach, where you can expect vendors and water activities. Beyond the beach, we highly recommend a dip in a cenote during your visit. Head to Ojos Indigenas for a swim in a crystal-clear and moderately cool natural pool.
Santo Domingo
Take a stroll along cobblestone roads in what the locals lovingly call La Capital. In Santo Domingo, the capital of the Dominican Republic, you'll find the perfect mesh of old and new, especially in La Zona Colonial. Enjoy a puro as you stroll along narrow streets, passing old colonial buildings once occupied by the first European settlers and stop for sunset along the malecon. No visit here is complete without a walk through Plaza de España where a linen chacabana shirt is mandatory.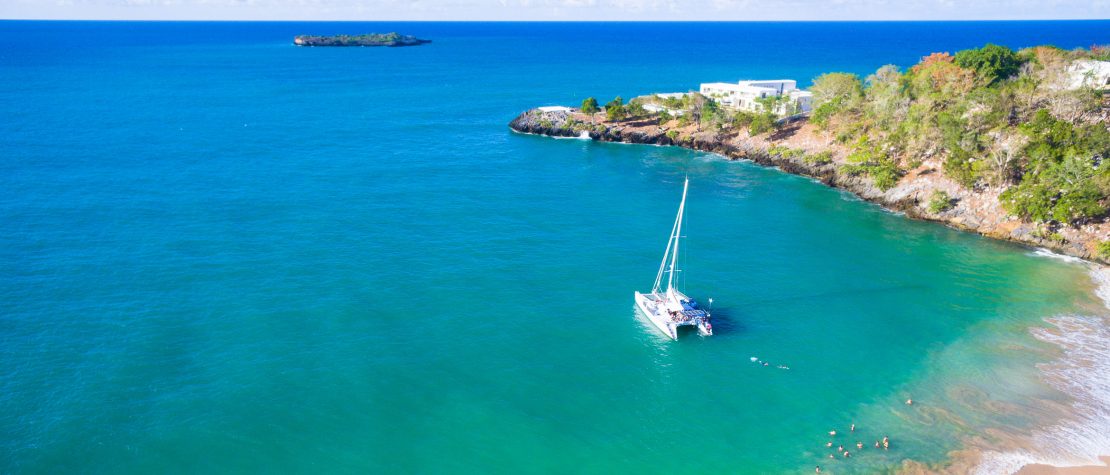 Samaná Peninsula
More than 2,000 humpback whales meet here each year. Do we have your attention now? The Samaná Peninsula is a secluded and private haven that's maintained its mystic since the 16th century. Here, nature buffs will love the sense of adventure and simplicity of the eco-friendly mindset amidst rainforest canopies and rolling mountains. Highlights of this peaceful spot include the ancient Taino cave markings and the annual appearance of mating humpback whales that meet to sing and sunbathe in Samaná Bay each December through March. When you're ready to be social, head to Las Terrenas, a laidback and beautiful resort town known most for its beach and underwater caverns including Dudu Cave.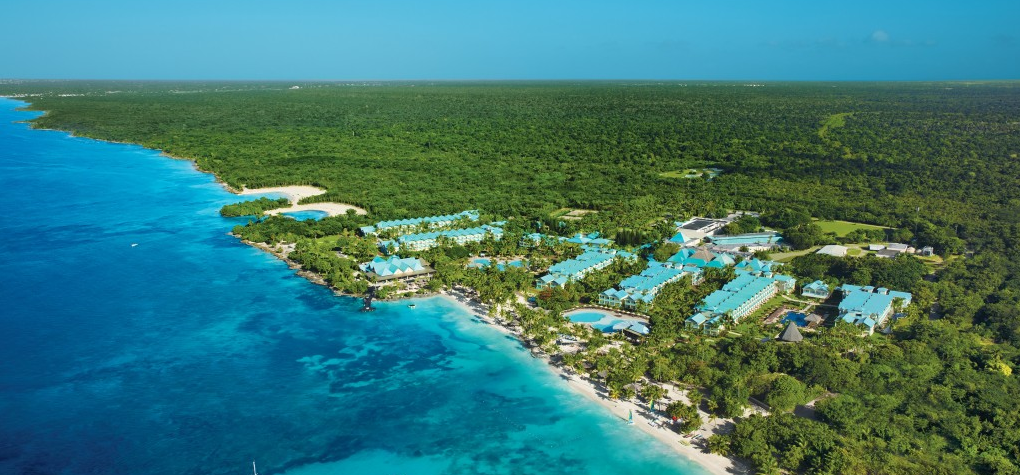 La Romana
In search of timeless sophistication and easy elegance? La Romana, on the Dominican Republic's Caribbean coast, is the epitome of class with acres of seaside golf courses and luxury historic resorts all in an upscale fishing village setting. Once home to the largest sugar cane mill in the Americas, La Romana opened its doors to tourists when mill owners launched the Casa de Campo Resort in 1974, now a favorite among celebrities and professional golfers who appreciate Pete Dye-designed fairways. There's plenty to add to your beach vacation, like a trip to Altos de Chavón, an authentically-crafted replica of a Mediterranean village overlooking the Chavón River. This spot is also the entry point to Saona and Catalina Islands, part of the Cotubanama National Park, where you can see rock paintings and sea turtles nesting in their natural habitat on the surrounding cayes.
Puerto Plata
Calling all adventurers! Puerto Plata's terrain accounts for every type of traveler on the northern Atlantic coastline. While the beaches are a main draw here, it's the colorful culture, vibrant villages, history and hands-on adventures that make this a true, immersive paradise. As Christopher Columbus' first discovery, the "Silver Port," as he called it, is home to the first church of the Americas and one of the first colonial period fortresses in the region, Fortaleza San Felipe, dating back to 1577. Historians will also enjoy exploring the largest collection of 19th-century Victorian style houses in the Caribbean here. Take the only cable car in the region for a ride up Mount Isabel de Torres and see more than 62 miles of beaches from above. The Dominican Republic is a mass producer of cacao and coffee—trek a family-owned plantation where trees grow these fruits, and underneath, gems like clear amber form. This destination is as cultural as it is natural, and it is essential that you get out and explore during your stay.