The Bahamas' Beaches
From colorful coral reefs to charming pastel-colored boardwalks and markets, the Bahamas are vibrant as ever. More than 700 islands and 2,000 cays make up this Caribbean oasis. A vacation to the Bahamas is marked by sun-filled days on stretches of immaculate beaches near the world's best resorts, swimming and diving in the clearest water on earth, and enjoying the islands' fresh seafood served with a side of warm Bahamian hospitality.
---
Your Guide to the Bahamas Islands
Located 50 miles off the coast of Florida, the Bahamas are a stress-free destination for those seeking a tropical climate and an endless supply of beaches. Head to New Providence, home to well-known Nassau and Paradise Island, for a selection of beach-side accommodations and activities, including the iconic Atlantis and massive Baha Mar resorts. On Grand Bahama Island, Freeport is a frequent stop for cruise lines with shops, restaurants and bars. For a more laid-back and deserted-island vibe, the Exumas are the perfect getaway. Similarly, Eleuthera, the original island of the Bahamas, puts an authentic spin on the region with rolling pineapple fields and jaw-dropping boutique hotel options.
Island highlights and must-do activities include run-ins with the local wildlife and visits to iconic resorts like Atlantis, where thrill seekers ride a water slide through an aquarium and golfers make par at Ocean Club Golf Course. Or, swim with the beach-dwelling pigs of Big Major Cay and pet nurse sharks off the boardwalk of Compass Cay for an unforgettable Bahamian experience. Additionally, stroll through the Nassau Straw Market for a taste of the island's culture and hand-crafted souvenirs.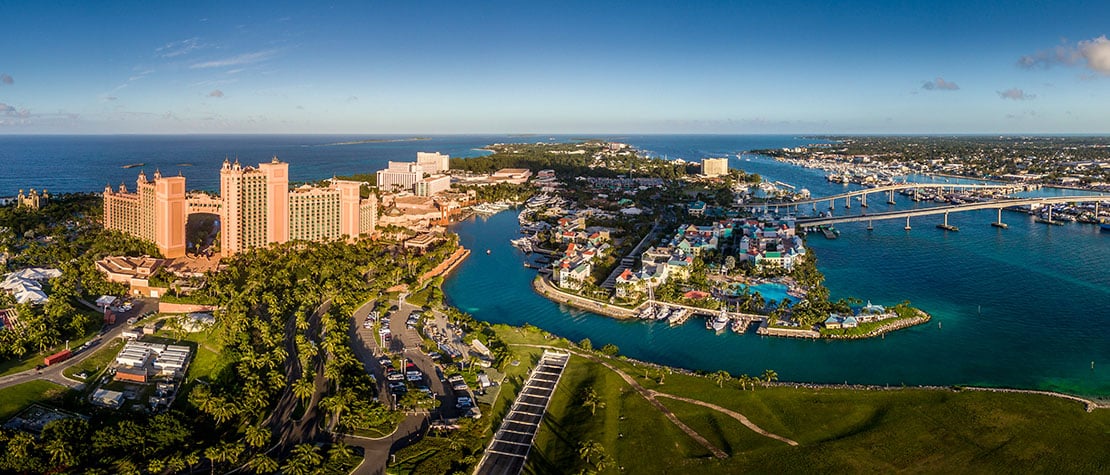 Nassau, New Providence & Paradise Island
For a metropolitan take on the islands perfect for convenient family travel, head to Nassau. As the capital of the Bahamas, Nassau offers nightlife, dining and the world-renowned Cable Beach. Protected by an outlying reef, this stretch of paradise is perfect for swimming and water sports. Just over the bridge to the north, Paradise Island showcases the best hotels, restaurants, shops and nightlife.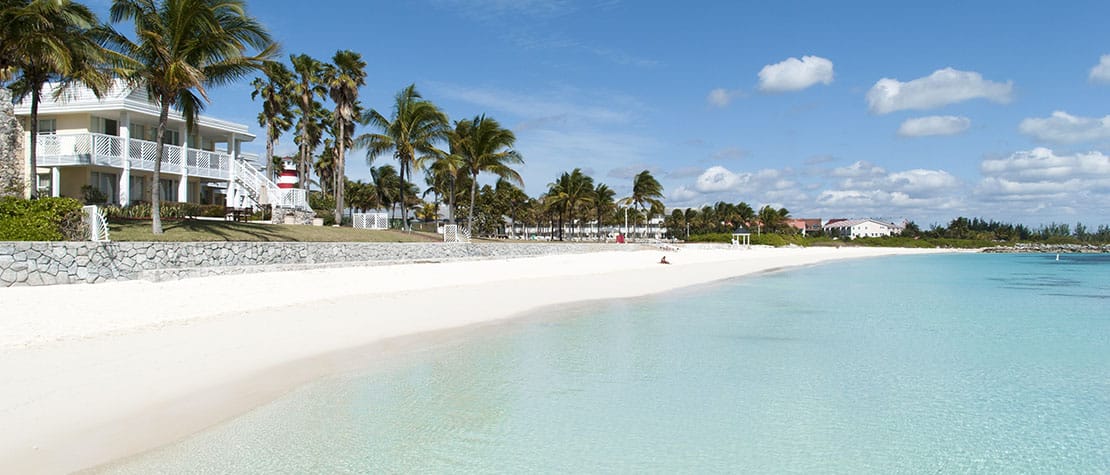 Freeport, Grand Bahama Island
As the second largest city in the Bahamas, Freeport caters to its visitors with upscale resorts, activities and cultural landmarks including Lucayan archaeological sites, epic underwater cave systems, three national parks and countless beaches. Many cruise ships make port here, adding to the town's vibrant and lively atmosphere, but stray to the island's other nearby towns and you'll find sleepy, laid-back island bliss.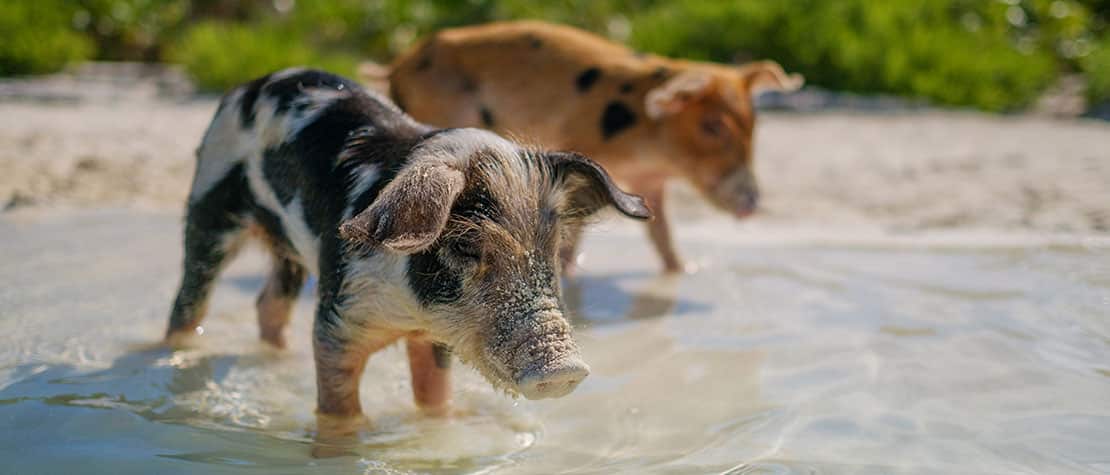 The Exumas
Escape the hubbub and head to the Exumas for virgin coastlines and celeb-worthy resorts. Nature rules here—secluded beaches meet private homes on this archipelago of 365 cays and islands just 35 miles southeast of Nassau. Lounge on Tropic of Cancer Beach on Little Exuma, swim with friendly pigs on Big Major Cay and explore the dunes and mangrove tunnels of Morla Harbour Cay National Park.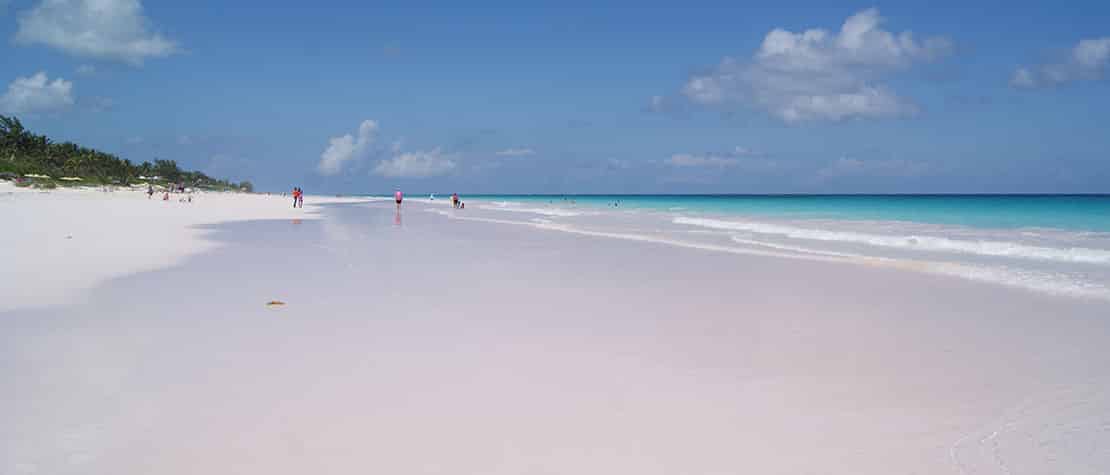 Harbour Island
Once the capital of the Bahamas, three-mile-long and half-a-mile wide Harbour Island is a luxe quiet retreat. Known as "Briland" by the locals, this quaint oasis is just a mile away from Eleuthera and easily accessible by ferry. Here you'll find Dunmore Town at the center of everything with ritzy resorts, upscale beachfront restaurants and Georgian influences like pastel-colored buildings and white picket fences. Highlights include the famous pink sand beach and riding around town on a golf cart for truly easy living.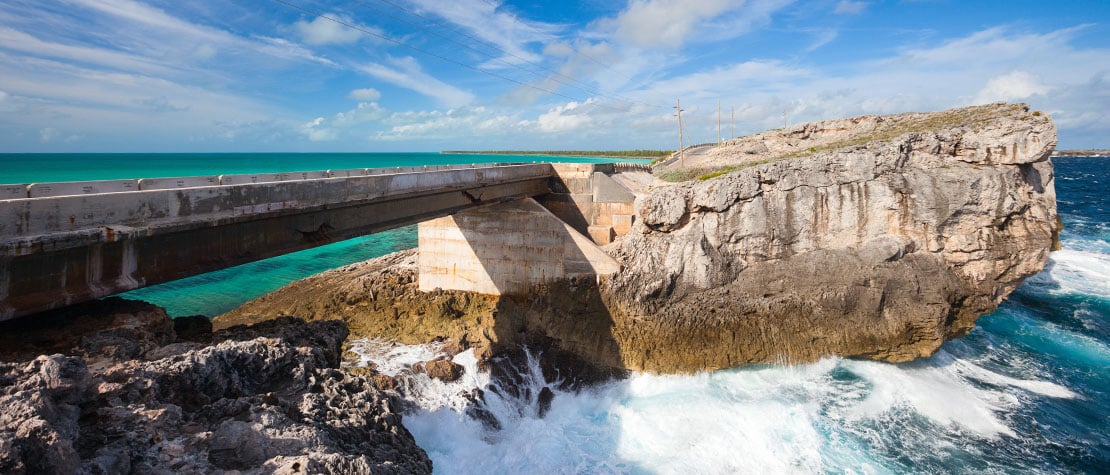 Eleuthera
Pineapple fields meet the ocean in Eleuthera, where the New England influence creates an effortless, casual sophistication. This island is more popular than neighboring Harbour Island, with family beach homes lining stretches of sand, along with expansive coral reefs contrasted by low-lying wetlands and rocky bluffs. Whether it's the architecture dating back to the Loyalist settlers in the late 1700s, or the breathtaking Glass Window bridge, the pineapple capital of the world welcomes guests back time and time again.