Dominica Beaches
Jurassic-like mountains with thousands of species of exotic plants, hot springs and Sisserou parrots beckon to be explored on the Lesser Antilles' youngest island. Traverse high into the sky in lush mountain jungles and deep below the surface to some of the Caribbean's most envied diving sites on this eco-tourism dream of an island. Black sand, white sand, you name it—your beach vacation to Dominica will be anything but ordinary.
---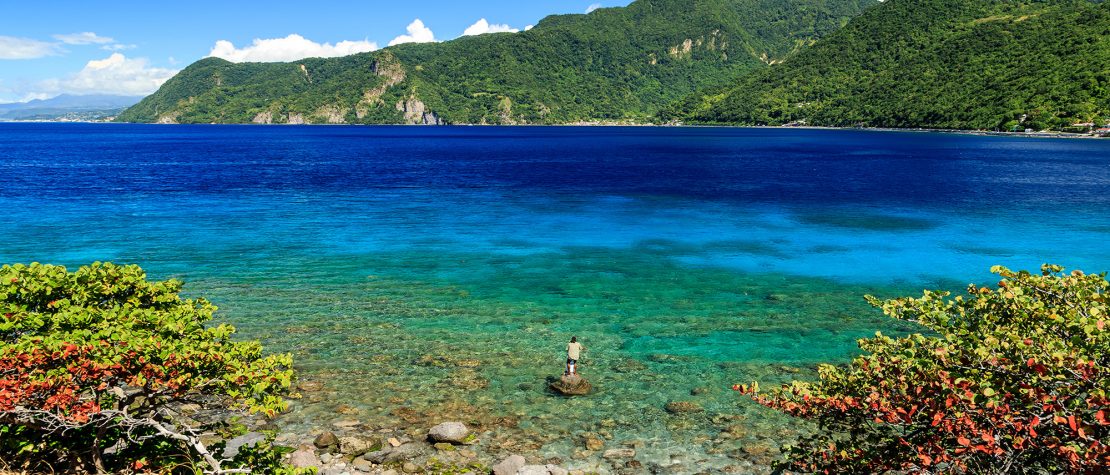 Dominica Overview
Known as the "Nature Isle of the Caribbean," Dominica is home to the world's second-largest boiling lake and acres of lush vegetation. It's a nature lover's paradise with hiking, water excursions, eco tours and diving, and you'll find plenty of places to settle in and enjoy a relaxing day at the beach. Dominica sits about halfway along the Eastern Caribbean archipelago and is easily accessible from Guadeloupe and Martinique. It is officially known as the Commonwealth of Dominica and has a very small population of just about 70,000 residents over the 289.5 square miles of territory.
The capital city of Roseau is where you'll find most of the commercial life, which itself is fairly minimal. Almost two-thirds of the island is covered by tropical forests and more than 1,200 plant species. Morne Trois Pitons National Park is one of the most significant attractions on the island and is the first UNESCO World Heritage Site in the eastern Caribbean. The cultural mix here includes English, French, African and Caribbean, and you'll find many restaurants and destinations around the island exhibit this "melting pot" of cultures. Unlike other islands in the Caribbean, Dominica is not well known for its beaches because most of the beaches on the island are fairly rocky and don't have much shade. The black sands of Hampstead Beach are still a fairly popular destination for tourists, however, and you can find white-sand beaches in the northeastern side of the island.
The indigenous people of Caribe still live on the island, inhabiting about 3,700 acres of territory on the eastern coast—know as "Carib Territory". If you do visit this part of the island, you'll have a chance to see some of the ancestral roots, visit canoe building areas and see outhouses with original tribal designs.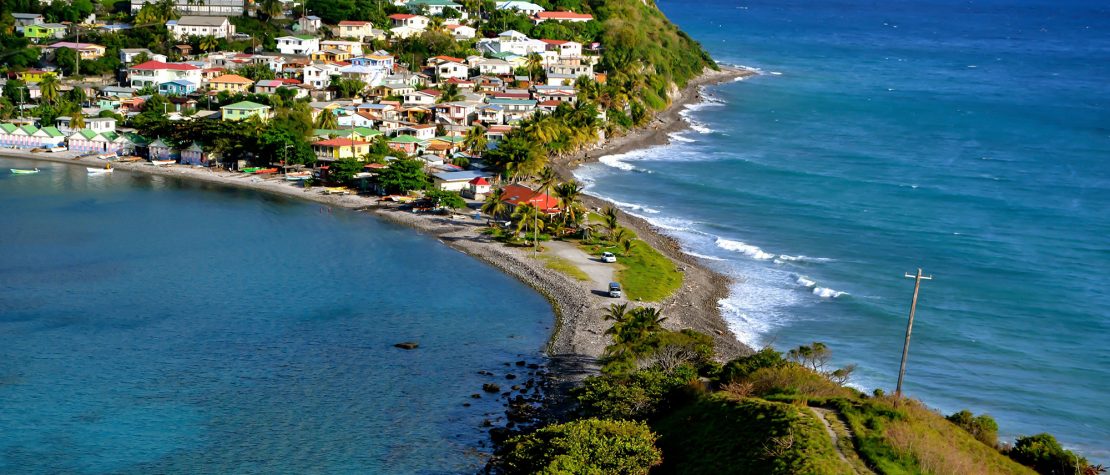 Dominica Weather & Best Time to Visit
Dominica's location between the Caribbean Sea and the Atlantic Ocean puts it within the same climate category as most of the other islands in the Caribbean. Average temperatures range between 70 and 85 degrees, and the warmest months are between February and May. February through May is the best time to visit if you want to spend some time on the beach, explore the local sites and rainforests, and spend most of your vacation outdoors. Hurricane season runs from June through November each year.
Dominica Airports
The island of Dominica is served by two international airports: Melville Hall Airport located on the northern part of the island and Canefield Airport located in the southern part. Melville Hall Airport is located two miles northwest of Marigot and is served by American Eagle Airlines, Executive Air, LIAT, Conviasa and Winair. Charter flights to and from Montserrat, Anguilla and Saint Barthelemy are also available. Canefield Airport serves Roseau and is a smaller airport on the island.
Experience Dominica
Dominica is an outdoor enthusiast's paradise, the place to enjoy hours of whale watching, sea kayaking, snorkeling, diving or just hiking the trails. The lush forests and valleys make up most of the island and you'll find thousands of scenic settings teeming with native birds, plants and small animals. The most famous of Dominica's trails is Boiling Lake, a cauldron that is only accessible via a four-hour hike. The water is usually enveloped in a large cloud, but hiking around this area is an unforgettable adventure.
Historic Attractions
Visit The Carib Cultural Village by the Sea to learn about the heritage of the Carib people (Kalingo) and see live music, song and dance performances. This site is also home to an herbal medicine garden, arts and crafts gallery, hiking trails and several viewpoints overlooking the Crayfish River.
One of the most unique attributes of the island of Dominica is the architecture and historic dwellings throughout the area. There's a number of monumental buildings that date back to the colonial era, including old plantation estates, sugar mills and historic homes. The Society for Architectural Preservation and Enhancement has designed a self-guided walking tour that gives you a taste of several fine architectural examples. From residential huts to ornamental churches, you'll see dozens of historic sites and venues around the residential areas of the island.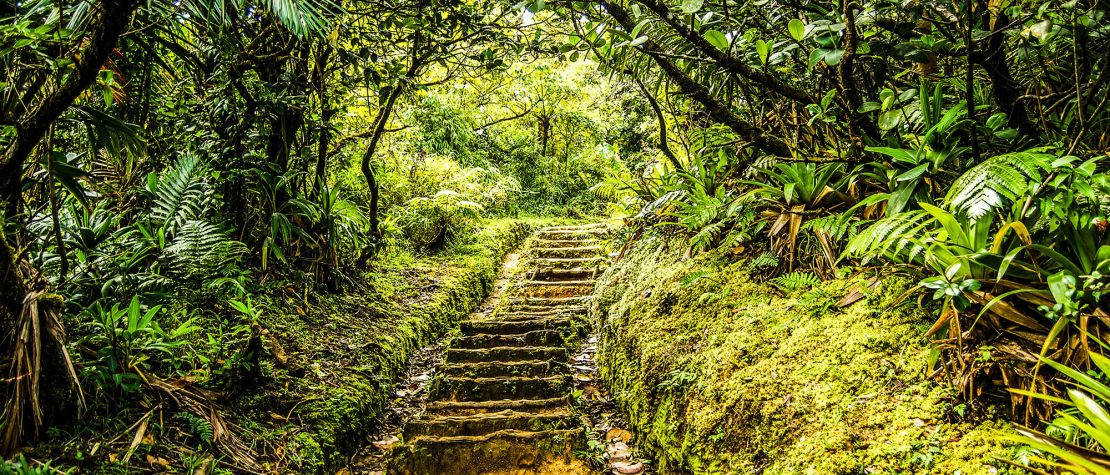 Outdoor Attractions
Most of the water around Dominica is protected, making diving and snorkeling popular activities year round. Head to the southern side of the island to explore Scotts Head Soufriere Marine Reserve or to the Cabrits Marine Reserve on the northern area of the island. Popular dive sites include the Cabrits Dive Site, Pinard, Douglas Point, Pointe Ronde and the Craters, Toucari Bay, Cottage Point and Champagne Reef. Coral Gardens North, also known as Dangleben's North, is a shallow and colorful dive site located in Soufriere, Scott's Head has the volcanic ridge known as Crater's Edge and the Norse Reef and Whaleshark Reef start at 55 feet and cascade down to over 130 feet.
Head off on an ATV or horseback riding tour of the island to enjoy an eco-adventure of your own. These tours are perfect for exploring sites beyond the standard hiking trails and take you through lush jungle and where you'll see an endless array of ornamental plants, tropical flowers and exotic fruit trees. A guided horseback ride through the rainforest gives you a chance to see breathtaking natural sites from a fresh perspective.
Hiking and adventure activities are a popular choice for many island visitors, with more than 300 miles of footpaths in the Morne Trois Pitons National Park alone. This national park has also been named a UNESCO World Heritage Site and is home to some of the most spectacular scenery on the island. Morne Trois Piton National Park is one of the most popular nature sites to visit, but you'll also find a number of pools, falls, gorges and beaches around the island. Some of the island's top nature attractions include Trafalgar Falls, Ti Tou Gorge, Londonderry Beach, Isulukati Waterfall, Woodford Hill Beach, Emerald Pool and the Middleham Falls.
Don't miss the chance to see the nesting rituals of the loggerheads, hawksbills, leatherbacks and green sea turtles. Rosalie Beach attracts these turtles between March and August each year and it's one of the most amazing things to watch. The Dominica Sea Turtle Conservation Organisation and the Rosalie Sea Turtle Initiative work together to train turtle watching guides and educate the community.
Wellness Attractions
Many visitors head to Dominica for health and wellness retreats. If you're in need of a holistic break or want to enjoy spa treatments, head to one of the hotels with spas or enjoy an Ayurvedic retreat. The clean mountain air helps relieve stress and restore your spirit. Plus, you can relax in one of the natural sulfur hot pools, enjoy a variety of nutritious tropical juices and connect with nature.
Whether you're heading to the island of Dominica for a relaxing getaway, eco-adventure or just to spend a few days learning about the local culture and traditions, you'll find that this side of the Caribbean has a wealth of experiences in store.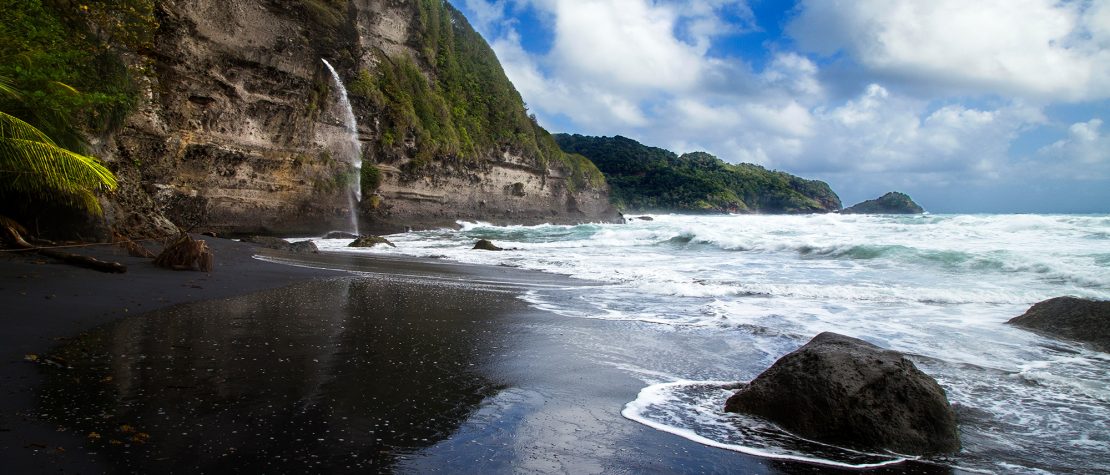 Dominica Beaches
For an island not necessarily known for its beaches, Dominica has a variety of options for dedicated beach bums. If black sand piques your interest, this volcanic island has it in droves on beaches like Rosalie Bay Beach, Batibou Beach, Mero Beach and Point Baptiste. Or, if you're looking for clear snorkeling right off the beach, Douglas Bay, Salisbury and Scott's Head beaches are all great options. For something more unique, head to Champagne Beach, where a constant stream of bubbles rising to the surface from volcanic vents under the sea floor give the appearance of champagne bubbles, along with warm water and world-famous diving. If you're seeking a more traditional "Caribbean" looking beach, Hampstead Beach is a trek to get to, but it delivers with postcard-perfect scenery.
It's important to note that not all beaches on Dominica are safe for swimming due to rough surf, so be sure to learn about each beach's tides and currents before diving in.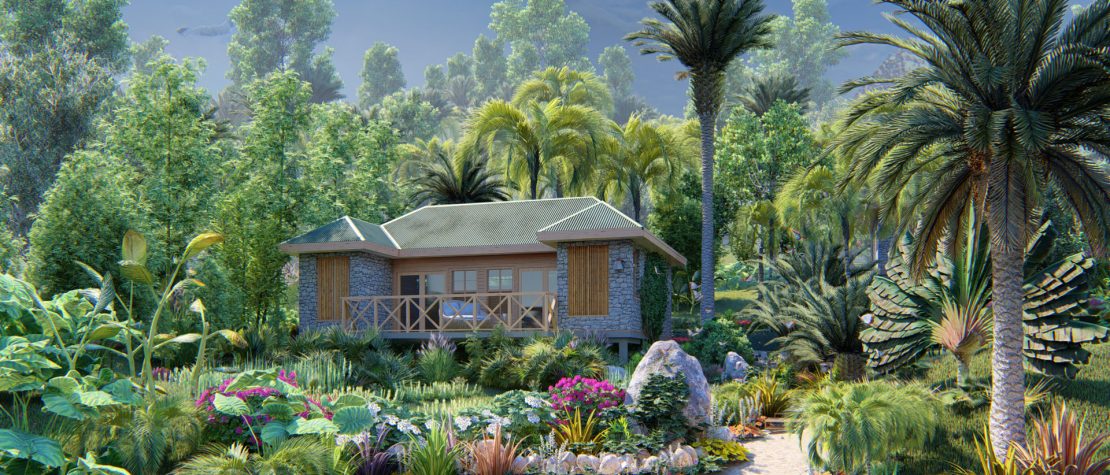 Dominica Accommodations
Unlike other islands in the Caribbean, you won't find many all-inclusive resorts or large, five-star establishments on Dominica, but hotel prices tend to be much lower than other areas of the Caribbean. There are a few high-rise hotels located in the capital city of Roseau, as well as some resorts that have spacious cottages and villa rental properties available. Popular Fort Young Hotel is right on the water in Roseau, putting you in the heart of the action without losing any of the Nature Island's serene atmosphere with options for families with small children, couples and business travelers. You'll also find a number of eco-lodges and destinations that offer breathtaking views of the ocean and lush forest, like Jungle Bay Dominica.
Dominica Vacation Rentals
If you're not staying at one of the larger hotels, consider staying at a guest house or cottage. These offer basic amenities and even bed and breakfast packages.
From luxury guesthouses to small rainforest lodges, there's a variety of vacation rental properties to meet your needs and budget. One of the biggest benefits of renting a vacation home instead of staying at a hotel or resort is the cost savings. Most condos, apartments, villas and guest houses are more affordable than the average hotel stay, and you can enjoy a wide range of amenities and services just as you would at a larger resort.
Dominica Restaurants
Meat and seafood in Dominica is usually imported from other islands in the Caribbean, but you'll always find an abundance of fresh fruits and vegetables from the local area served at the major restaurants and cafes. Many restaurants serve only West Indian food, but whether you're craving traditional Caribbean fare or want to enjoy European specialties, Dominica has plenty of dining options.
Dominica Events
The island of Dominica plays host to a number of events and festivals throughout the year. Carnival is perhaps the biggest event of the year, and on the island of Dominica, it's known as "The Real Mas". This pre-Lent festival takes place in February or March each year and is a grand festival of music, parades, costumes, great food and the Queen Show—which showcases the talents of local women. The Calypso competition is also one of the biggest draws to the Carnival celebration, featuring musicians and artists from around the region.
The World Creole Music Festival is a two-day concert held in October each year and is another popular event that draws visitors from around the globe. This is an elaborate celebration of Creole music featuring live performances and workshops for music fans and enthusiasts. Don't miss the Carib Canoe Race and Dive Fest in July, a popular event for summertime visitors. This event attracts hundreds of locals to the shores each year to compete in a canoeing competition and show off their diving skills.