Cancún Beaches
From the sprawling tourism scene with glamorous beach resorts and nightlife to the ancient Mayan ruins and jovial locals, Cancún meshes culture with relaxation in an ideal beach setting. Start your day with a beach-side massage at your resort and end it with a sunset over Chichén Itzá—that's Cancún. Images of crystal-clear turquoise water will lure you in, but the warm hospitality and deep-rooted history are what will call you back.
---
December through April brings the most visitors here but there's a direct flight waiting to whisk you to Cancún's white-sand beaches year-round. Book your beach resort along 14 miles of shoreline in the bustling Hotel Zone and you'll have diving, golf, shopping and glitzy nightlife all within reach. All-inclusive and luxury hotels line the beaches and cater to families, couples and destination wedding parties, making Cancún a popular destination for all. When you've had your fill of beach relaxation, the surrounding natural wonders will fill your vacation with the perfect mix of sunshine and adventure.
Just over the Kukulcan Boulevard, downtown Cancún gives a totally different vibe with local culture and authentic cuisine. And beyond downtown, there's a plethora of natural wonders and ancient ruins. Visit one of the Mayan ruins in the Riviera Maya like Tulum, Coba, Uxmal or Chichén Itzá for a glimpse of Mexico's indigenous past, or charter a boat to one of the breathtaking islands off Cancún's coast like Isla Mujeres. In addition, Cancún offers many activities you're unlikely to find elsewhere. Ancient cenotes dot the entire Riviera Maya, offering the perfect swimming spots, and you can swim with whale sharks May through September. Simply put: Cancún has it all.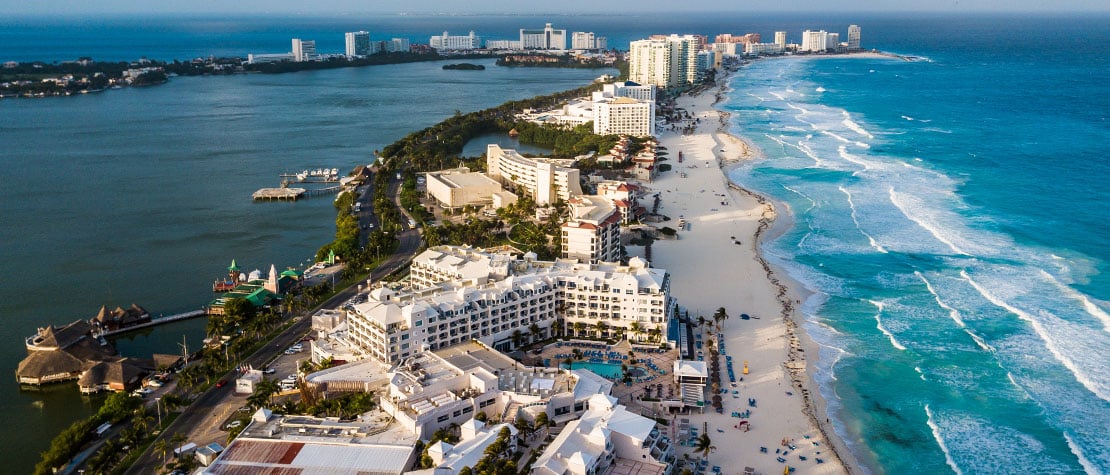 Cancún's Hotel Zone
Cancún's Hotel Zone is the most popular area for beach accommodations. It has everything from large all-inclusive resorts to luxury hotels right on the beach. As the most popular area, there's roaring nightlife at world-famous clubs like Coco Bango, Dady 'O and Mandala Beach Club, and premier shopping at La Isla Shopping Village. Unlimited-visibility water and a multitude of tour companies are available to take you on an underwater adventure including swimming, snorkeling, diving and fishing.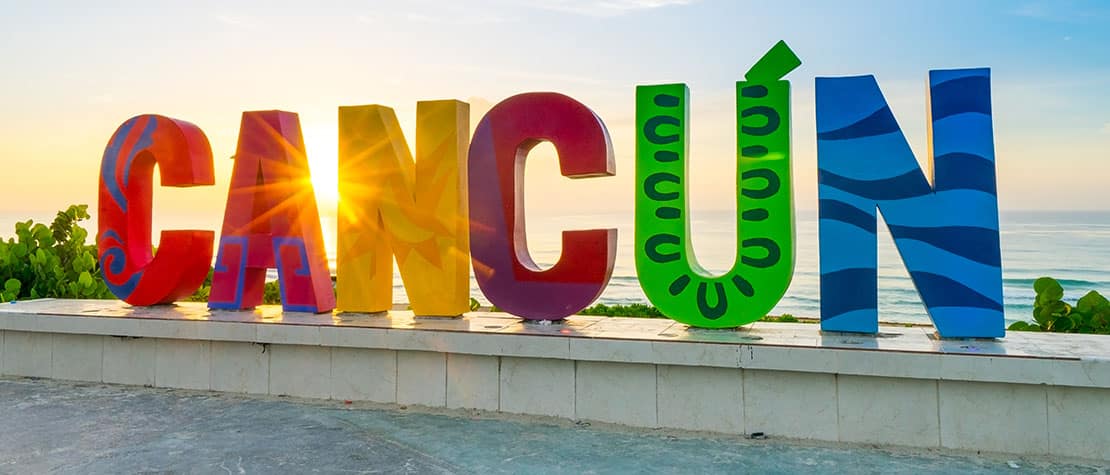 Downtown Cancún or El Centro
Take Kukulcan Boulevard to El Centro for a more authentic look at Cancun. As you head further outside the Hotel Zone, you'll notice lower prices and a lot more locals. Expect traditional Mexican food, hand-crafted goods at traditional markets like Mercado 28 and a less-touristy experience all around. Parque Las Palapas has weekend festivals and is a great place for a glimpse into how local families live. Yaxchilan Avenue has a stretch of restaurants and local vendors serving authentic food, like guacamole, fish tacos and seafood dishes. The open-air Malecon Americas Shopping Mall is a popular spot for locals and a great place for a snack. Malecon Tajamor, along the Nichupte Lagoon, makes a popular spot for evening strolls or viewing the sunset past the Hotel Zone Skyline. Plus, the Mayan Museum of Cancún here has impressive archeological artifacts if you're interested in brushing up before you visit the ruins themselves.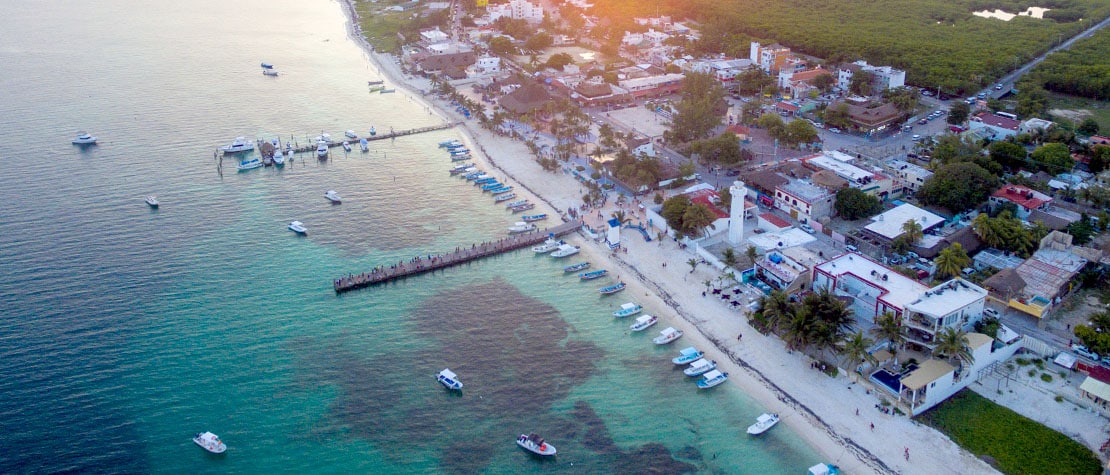 Puerto Morelos
If you're looking for more peace and quiet outside of the bustling Hotel Zone, Puerto Morelos is your spot. This sleepy fishing village is considerably less developed than the surrounding towns, meaning shops and restaurants are all local. Its main draw is the topaz waters and protected Mesoamerican reef. Divers and snorkelers spend their days exploring below the ocean while others enjoy the white-sand beaches and nearby cenotes from land. Cenote Zapote Ecopark has three cenotes you can swim, dive and jump in, plus ziplines and bicycle tours. Puerto Morelos also has one of the largest botanical gardens at Jardín Botanico and exotic wildlife at Croc Cun Zoo.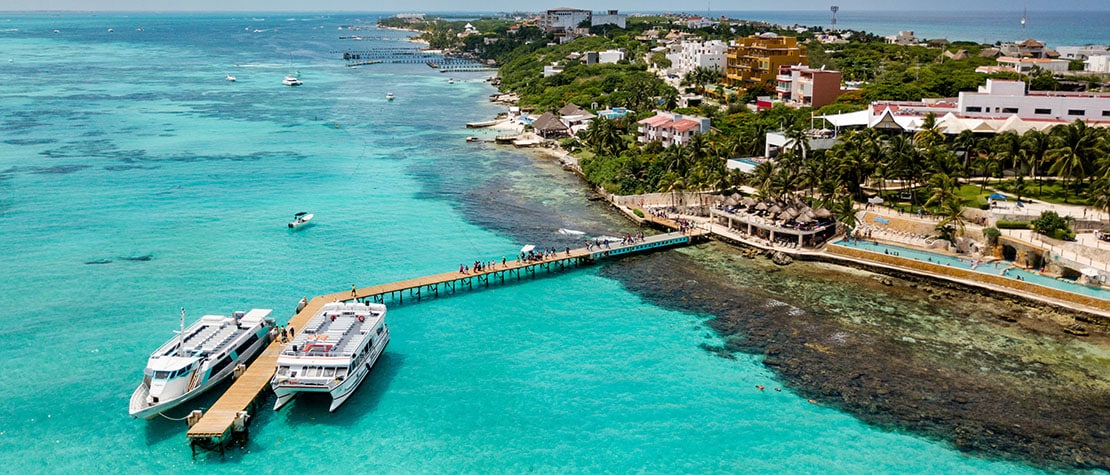 Isla Mujeres
Isla Mujeres is a just a 15-minute ferry ride from Cancún and its laid-back vibes, heavenly beaches and dazzling blue water make it one of the most popular day trips from Cancún. Visit Playa Norte if you want to kick back in paradise with unlimited water sports and restaurants nearby. The more adventurous will love snorkeling or diving alongside magnificent statues teeming with sea life at the MUSA Underwater Sculpture Museum. Or, visit Garrafon Natural Reef Park if you're interested in ziplining, snorkeling, kayaking and island tours.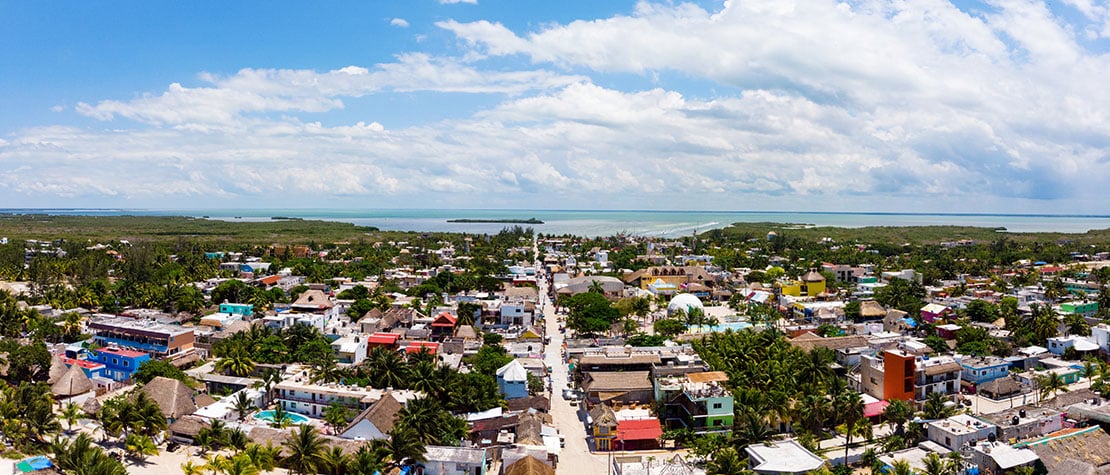 Isla Holbox
Isla Holbox is a hidden bohemian gem off the coast of northern Yucatán Peninsula that shares a similar vibe to trendy Tulum. Reachable by ferry or boat from Chiquila, this sleepy, casual island is car-free. You'll fall in love with the colorful murals dotting the island and shallow water so blue you'll be surprised it's not an Instagram filter. Rent a golf cart or bicycle for exploring, and set out to the famous over-ocean Holbox Hammocks with your camera ready. Days here are filled with sun lounging on Playa Holbox, visiting flamingos at Yum Balam Ecological Reserve and enjoying cocktails at Punta Cocos. Stay overnight to witness the magnificent bioluminescence in the surrounding ocean.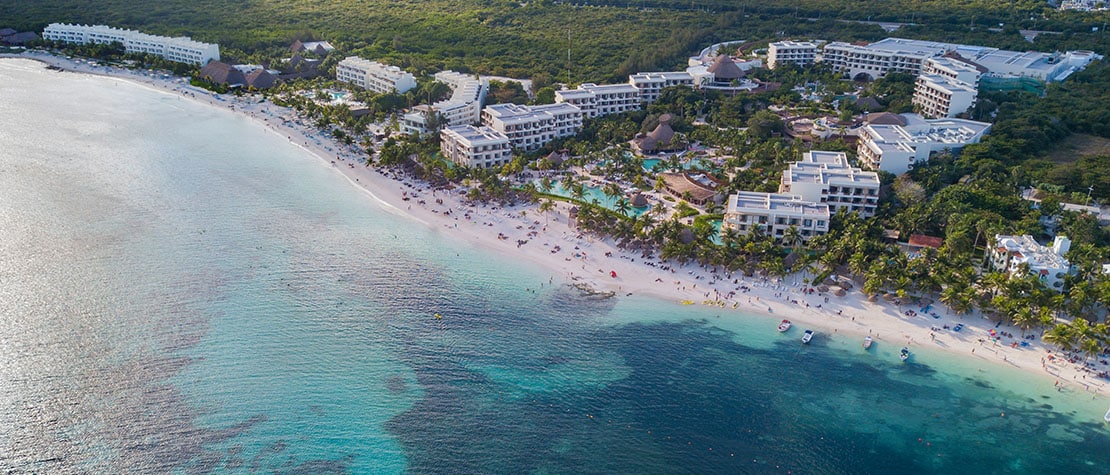 Akumal
Approximately 60 miles south of Cancún, Akumal or "land of turtles" in Mayan, offers a peaceful oasis flush with flora and fauna. It used to be one of the top resort areas in Mexico, but in recent years it's a lot quieter and has ramped up conservation efforts to protect the wildlife from development. The beauty of Akumal is best seen underwater and in its many parks. You can snorkel with coral, exotic fish and sea turtles right off of Half Moon Bay Beach or Yal-ku Lagoon. Or, explore Mexico's jungle and cenotes in Aktun Chen Natural Park or Xibal Park.[/read_more]